View the Ultimate World Tour
North America »
USA » CANADA »
Highlights
Choose a Highlight for further information
Economy from
£6,399
per person
Business from
£9,500
per person
---
Key to Symbols

World Heritage Natural Site

BBC List

Top 100 wonders of the world

World Heritage Cultural Site
North America » Toronto


Niagra Falls

USA » CANADA »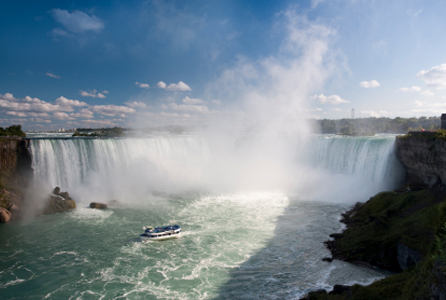 Discovering Niagra Falls
Niagara Falls is a destination unlike any other. From the top of the Skylon Tower to the base of the Horseshoe Falls, Niagara is an awe-inspiring sight for all visitors.
The sheer power of the Falling water gives off a round-the-clock roar, a refreshing and far reaching mist, which serves as a reminder of how wondrous our natural world is. After being mesmerised by the towering falls from numerous look-out points, its time to don a famous blue slicker and jump aboard the Maid of the Mist for a truly exhilarating ride to the base of the falls.
For the even more adventurous take a helicopter ride or take a walking tour called "Journey behind the falls"!
Call 0808 2525 672

Discuss your travel requirements face-to-face with our travel expert.

Ask one of our travel experts to call you at your convenience.

Contact us to so we can help you find your dream trip today!