View the Ultimate World Tour
North America »
USA » CANADA »
Highlights
Choose a Highlight for further information
Economy from
£6,399
per person
Business from
£9,500
per person
---
Key to Symbols

World Heritage Natural Site

BBC List

Top 100 wonders of the world

World Heritage Cultural Site
North America » Las Vegas


Hoover Dam

USA » CANADA »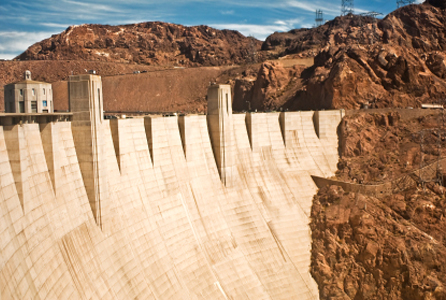 Discovering Hoover Dam
The Hoover Dam is a concrete arch gravity dam in the Black Canyon of the Colorado River, on the border between the states of Arizona and Nevada. It was constructed between 1931 and 1936.
Its construction was the result of a massive effort involving thousands of workers, and cost over a hundred lives. Hoover Dam impounds Lake Mead, and is located about 30 miles south of Las Vegas.
A 20th century masterpiece of engineering, its dramatic setting and awe inspiring size is totally mesmerising.
Call 0808 2525 672

Discuss your travel requirements face-to-face with our travel expert.

Ask one of our travel experts to call you at your convenience.

Contact us to so we can help you find your dream trip today!