View the Ultimate World Tour
North America »
USA » CANADA »
Highlights
Choose a Highlight for further information
Economy from
£6,399
per person
Business from
£9,500
per person
---
Key to Symbols

World Heritage Natural Site

BBC List

Top 100 wonders of the world

World Heritage Cultural Site
North America » New York


Empire State Building

USA » CANADA »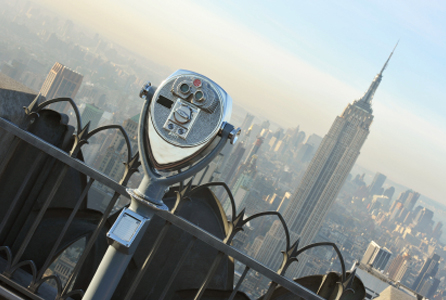 Discovering Empire State Building
The Empire State and the Statue of Liberty are by far the most iconic images of New York City. The famed skyscraper was built in 1931 and took only 18 months to complete during the Great Depression; it was the world's tallest building for 40 years from 1931 to 1972.
Today the Empire State Building remains the highest skyscraper in Manhattan and the view from the observation deck located on the 102 floor is truly breathtaking.
At night the building is lit in different colours to celebrate the various seasonal holidays.
Call 0808 2525 672

Discuss your travel requirements face-to-face with our travel expert.

Ask one of our travel experts to call you at your convenience.

Contact us to so we can help you find your dream trip today!