View the Ultimate World Tour
South America »
BRAZIL » ARGENTINA » PERU » VENEZUALA »
Highlights
Choose a Highlight for further information
Economy from
£8,099
per person
Business from
£11,500
per person
---
Key to Symbols

World Heritage Natural Site

BBC List

Top 100 wonders of the world

World Heritage Cultural Site
South America » Rio de Janerio


Sugar Loaf Mountain

BRAZIL » ARGENTINA » PERU » VENEZUALA »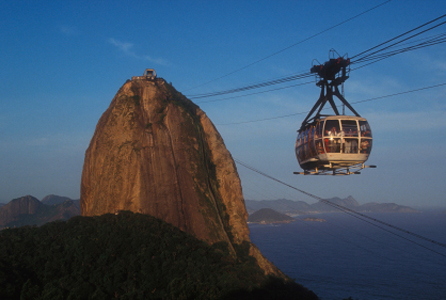 Discovering Sugar Loaf Mountain
The mountain is one of the most famous in the world and is a spectacular backdrop to Brazil's most lively city. Shaped like a Victorian sugar loaf, rising 1300ft above the harbour.
The famed cable cars, which were introduced by the engineer Augusto Ferreira Ramos in 1912, transport visitors to the top of the mountain, against a back drop of sheer vertical cliffs.
Call 0808 2525 672

Discuss your travel requirements face-to-face with our travel expert.

Ask one of our travel experts to call you at your convenience.

Contact us to so we can help you find your dream trip today!