View the Ultimate World Tour
South America »
BRAZIL » ARGENTINA » PERU » VENEZUALA »
Highlights
Choose a Highlight for further information
Economy from
£8,099
per person
Business from
£11,500
per person
---
Key to Symbols

World Heritage Natural Site

BBC List

Top 100 wonders of the world

World Heritage Cultural Site
South America » Iguassu Falls


Iguassu Falls

BRAZIL » ARGENTINA » PERU » VENEZUALA »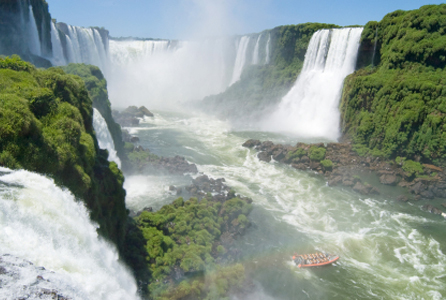 Discovering Iguassu Falls
Located on the border between Brazil and Argentina the falls are part of a virgin jungle ecosystem protected by UNESCO as a world heritage site. Four times larger than Niagara and twice as wide with 275 cascading waterfalls in a crescent shape covering over two miles of the Iguazu River.
Iguassu Falls is the result of a volcanic eruption which left a large fissure in the earth. These facts do nothing to describe the grandeur and tremendous power of water thundering down 269 feet into a tropical basin.
Its sheer beauty led Eleanor Roosevelt to say "Poor Niagara" as she first set eyes on the spectacular Falls.
Call 0808 2525 672

Discuss your travel requirements face-to-face with our travel expert.

Ask one of our travel experts to call you at your convenience.

Contact us to so we can help you find your dream trip today!