View the Ultimate World Tour
South America »
BRAZIL » ARGENTINA » PERU » VENEZUALA »
Highlights
Choose a Highlight for further information
Economy from
£8,099
per person
Business from
£11,500
per person
---
Key to Symbols

World Heritage Natural Site

BBC List

Top 100 wonders of the world

World Heritage Cultural Site
South America » Cuzco


Cuzco - Peru

BRAZIL » ARGENTINA » PERU » VENEZUALA »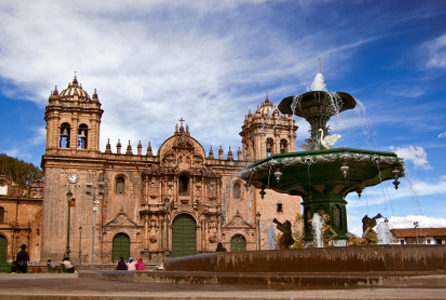 Discovering Cuzco - Peru
Few places in Peru possess such a magical atmosphere as Cuzco. The city has been the centre of Inca culture from its beginnings.
Cuzco is situated in the Peruvian Andes and was founded by the Inca ruler Patchacutec. When the Spaniards conquered it in the 16th century, they preserved the basic structure but built Baroque churches and palaces over the ruins of the Inca city.
Cuzco is now the undisputed archaeological capital of the Americas, and a must see destination for anyone visiting Peru.
Call 0808 2525 672

Discuss your travel requirements face-to-face with our travel expert.

Ask one of our travel experts to call you at your convenience.

Contact us to so we can help you find your dream trip today!