View the Ultimate World Tour
South America »
BRAZIL » ARGENTINA » PERU » VENEZUALA »
Highlights
Choose a Highlight for further information
Economy from
£8,099
per person
Business from
£11,500
per person
---
Key to Symbols

World Heritage Natural Site

BBC List

Top 100 wonders of the world

World Heritage Cultural Site
South America » Canaima


Canaima National Park

BRAZIL » ARGENTINA » PERU » VENEZUALA »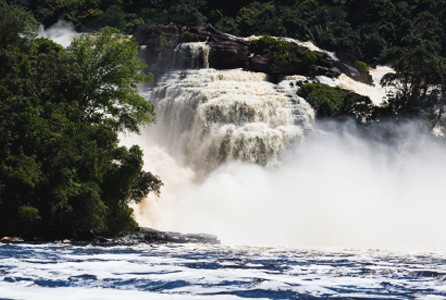 Discovering Canaima National Park
"Discover the Lost World" Canaima National Park occupies 30,000 square km in south eastern Venezuela.
The most famous natural landmark is Auyantepui or devil's mountain from which the Angel Falls originate. The park is relatively remote with only a few roads connecting towns. Most transport within the park is done by light plane or by foot or canoe.
In 1994 Canaima was designated a world heritage site in light of its extraordinary scenery. From the "Land that time forgot" to "Jurassic Park" nowhere on Earth encapsulates the fantasy more than a journey through Canaima National Park.
Call 0808 2525 672

Discuss your travel requirements face-to-face with our travel expert.

Ask one of our travel experts to call you at your convenience.

Contact us to so we can help you find your dream trip today!