View the Ultimate World Tour
South America »
BRAZIL » ARGENTINA » PERU » VENEZUALA »
Highlights
Choose a Highlight for further information
Economy from
£8,099
per person
Business from
£11,500
per person
---
Key to Symbols

World Heritage Natural Site

BBC List

Top 100 wonders of the world

World Heritage Cultural Site
South America » Buenos Aries


Casa Rosada

BRAZIL » ARGENTINA » PERU » VENEZUALA »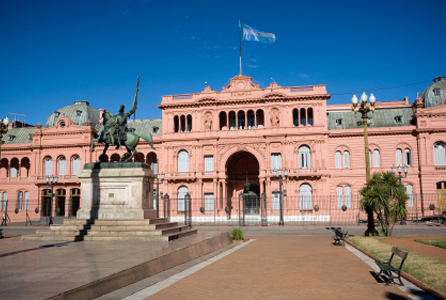 Discovering Casa Rosada
The Argentine President's workplace and the scene of momentous historic events, the salmon-pink Casa Rosada presides over Plaza de Mayo in the centre of Buenos Aires.
Eva Peron addressed adoring crowds from the balcony and the property was immortalized in one of the most popular musicals of all time "Evita". It was from the Casa Rosada that war was declared with the United Kingdom over the Falkland Islands.
Call 0808 2525 672

Discuss your travel requirements face-to-face with our travel expert.

Ask one of our travel experts to call you at your convenience.

Contact us to so we can help you find your dream trip today!