View the Ultimate World Tour
Africa »
SOUTH AFRICA » NAMIBIA » ZAMBIA » TANZANIA » KENYA »
Highlights
Choose a Highlight for further information
Economy from
£7,849
per person
Business from
£12,400
per person
---
Key to Symbols

World Heritage Natural Site

BBC List

Top 100 wonders of the world

World Heritage Cultural Site
Africa » Windhoek


Windhoek

SOUTH AFRICA » NAMIBIA » ZAMBIA » TANZANIA » KENYA »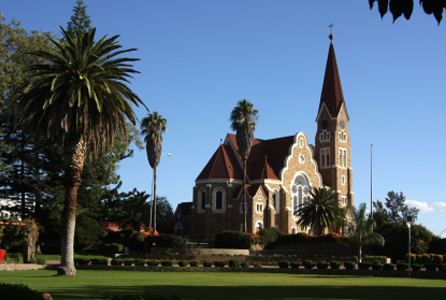 Discovering Windhoek
Windhoek is the capital of Namibia, the home to approximately two hundred thousand people, an extremely small capital by global standards. This number is growing rapidly at present, mostly due to a lack of employment in rural areas.
The city centre is characterised by a proliferation of German style buildings, a lasting reminder of Namibia's early colonial history. Early buildings such as the Alte Feste (old fort), Christuskirche and Tintenpalast (the parliament buildings) are of particular historical interest.
Call 0808 2525 672

Discuss your travel requirements face-to-face with our travel expert.

Ask one of our travel experts to call you at your convenience.

Contact us to so we can help you find your dream trip today!