View the Ultimate World Tour
Africa »
SOUTH AFRICA » NAMIBIA » ZAMBIA » TANZANIA » KENYA »
Highlights
Choose a Highlight for further information
Economy from
£7,849
per person
Business from
£12,400
per person
---
Key to Symbols

World Heritage Natural Site

BBC List

Top 100 wonders of the world

World Heritage Cultural Site
Africa » Arusha


Ngorongoro Crater

SOUTH AFRICA » NAMIBIA » ZAMBIA » TANZANIA » KENYA »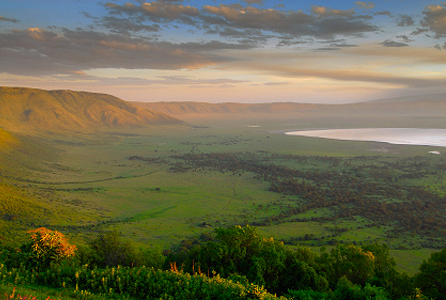 Discovering Ngorongoro Crater
The famous Ngorongoro Crater was formed over 2 million years ago after a powerful volcanic eruption, creating one of the world's most spectacular natural arenas.
The caldera forms a bowl covering 265 square kilometres with the rim up to 600m deep. The crater hosts the highest density of wildlife in Africa.
Widely considered Africa's garden of Eden, it is also home to the spectacular Maasai tribe, despite education, civilization, and cultural influences the Maasai have clung to there traditions and way of life, making them a unique symbol of this wild and beautiful land.
Call 0808 2525 672

Discuss your travel requirements face-to-face with our travel expert.

Ask one of our travel experts to call you at your convenience.

Contact us to so we can help you find your dream trip today!