View the Ultimate World Tour
Africa »
SOUTH AFRICA » NAMIBIA » ZAMBIA » TANZANIA » KENYA »
Highlights
Choose a Highlight for further information
Economy from
£7,849
per person
Business from
£12,400
per person
---
Key to Symbols

World Heritage Natural Site

BBC List

Top 100 wonders of the world

World Heritage Cultural Site
Africa » Livingstone


Victoria Falls

SOUTH AFRICA » NAMIBIA » ZAMBIA » TANZANIA » KENYA »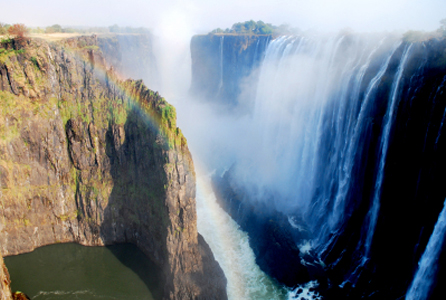 Discovering Victoria Falls
"Mosi oa-Tunya" meaning "The smoke that thunders". Victoria Falls is officially one of the 7 Wonders of the World, possibly the greatest physical spectacle in Africa.
The power of the falls is awesome, positioned almost exactly halfway along the mighty Zambesi. Here the river plunges headlong into a 100m vertical chasm, creating the biggest curtain of falling water in The World.
Call 0808 2525 672

Discuss your travel requirements face-to-face with our travel expert.

Ask one of our travel experts to call you at your convenience.

Contact us to so we can help you find your dream trip today!