View the Ultimate World Tour
Africa »
SOUTH AFRICA » NAMIBIA » ZAMBIA » TANZANIA » KENYA »
Highlights
Choose a Highlight for further information
Economy from
£7,849
per person
Business from
£12,400
per person
---
Key to Symbols

World Heritage Natural Site

BBC List

Top 100 wonders of the world

World Heritage Cultural Site
Africa » Livingstone


Livingstone

SOUTH AFRICA » NAMIBIA » ZAMBIA » TANZANIA » KENYA »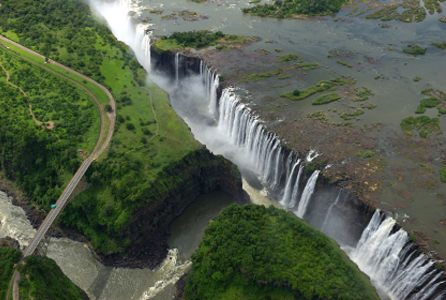 Discovering Livingstone
Livingstone owes its existence to the Victoria Falls. It was named after the missionary and explorer Dr. David Livingstone, the first European to discover the mighty waterfalls. In 1904 a bridge was built, taking the railway across the Zambezi river just below the Falls to what is now Zimbabwe. Livingstone was founded on completion of the bridge in 1905. Today, Livingstone is a compact town with some interesting historical references.
The Livingstone Museum, which houses memorabilia related to the founder and his exploration of the region in the 1850s, and the Railway Museum.
Call 0808 2525 672

Discuss your travel requirements face-to-face with our travel expert.

Ask one of our travel experts to call you at your convenience.

Contact us to so we can help you find your dream trip today!