View the Ultimate World Tour
Africa »
SOUTH AFRICA » NAMIBIA » ZAMBIA » TANZANIA » KENYA »
Highlights
Choose a Highlight for further information
Economy from
£7,849
per person
Business from
£12,400
per person
---
Key to Symbols

World Heritage Natural Site

BBC List

Top 100 wonders of the world

World Heritage Cultural Site
Africa » Arusha


Safari Adventure - Tanzania

SOUTH AFRICA » NAMIBIA » ZAMBIA » TANZANIA » KENYA »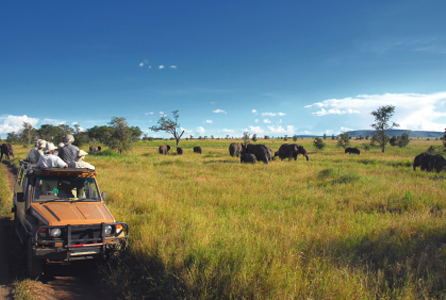 Discovering Safari Adventure - Tanzania
Even without the migrating herds, the Serengeti remains the jewel in the crown of Tanzania's protected areas. It is vast and stunning, to go on Safari in Tanzania is and always will be one of the most exclusive and special travel experiences in the world.
Tanzania is home to some of Africa's most spectacular game viewing. Less visited than neighbouring Kenya the exotic National conservation areas are largely un crowded, allowing far greater viewing opportunities for visitors.
Call 0808 2525 672

Discuss your travel requirements face-to-face with our travel expert.

Ask one of our travel experts to call you at your convenience.

Contact us to so we can help you find your dream trip today!