View the Ultimate World Tour
Africa »
SOUTH AFRICA » NAMIBIA » ZAMBIA » TANZANIA » KENYA »
Highlights
Choose a Highlight for further information
Economy from
£7,849
per person
Business from
£12,400
per person
---
Key to Symbols

World Heritage Natural Site

BBC List

Top 100 wonders of the world

World Heritage Cultural Site
Africa » Cape Town


Stellenbosch & the Winelands

SOUTH AFRICA » NAMIBIA » ZAMBIA » TANZANIA » KENYA »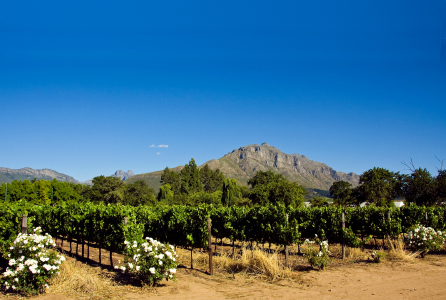 Discovering Stellenbosch & the Winelands
After a short drive from Capetown you will arrive in Stellenbosch, situated at the head of the Eerste River Valley. This charming and vibrant town is now at the heart of South Africa's famed wineland region.
The Cape Dutch building style is prevalent throughout the area, paying homage to the areas humble beginnings. Highlights on this tour will include The Taal Monument in Paarl built in 1975 to commemorate Afrikaans as an official language and beautiful Franschhoek Village in The Valley of The Huguenots, historically a French settlement boosting some of the best shopping, restaurants and authentic architecture in the entire area.
Call 0808 2525 672

Discuss your travel requirements face-to-face with our travel expert.

Ask one of our travel experts to call you at your convenience.

Contact us to so we can help you find your dream trip today!