View the Ultimate World Tour
Oceania »
AUSTRALIA » NEW ZEALAND » FRENCH POLYNESIA »
Highlights
Choose a Highlight for further information
Economy from
£7,499
per person
Business from
£13,000
per person
---
Key to Symbols

World Heritage Natural Site

BBC List

Top 100 wonders of the world

World Heritage Cultural Site
Oceania » Auckland


Rotorua

AUSTRALIA » NEW ZEALAND » FRENCH POLYNESIA »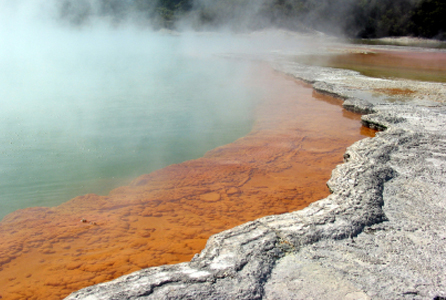 Discovering Rotorua
With its unique volcanic landscape, Maori culture, and natural hot springs, Rotorua is one of New Zealand's most famous destinations.
The region was the birthplace of New Zealand tourism in the 1800s, when travellers flocked here from around the world to see the amazing pink and white silica terraces, which cascaded into a volcanic lake.
When explaining the appeal of their region, the people of Rotorua like to talk of the spirits. You can feel the spirit of the earth, as it rumbles beneath your feet and escapes through hissing geysers. You can witness the spirit of Maori culture, with authentic villages.
With a soak in a natural hot spring you can rejuvenate your spirit. Or free your spirit with a myriad of outdoor adventures.
Call 0808 2525 672

Discuss your travel requirements face-to-face with our travel expert.

Ask one of our travel experts to call you at your convenience.

Contact us to so we can help you find your dream trip today!