View the Ultimate World Tour
Oceania »
AUSTRALIA » NEW ZEALAND » FRENCH POLYNESIA »
Highlights
Choose a Highlight for further information
Economy from
£7,499
per person
Business from
£13,000
per person
---
Key to Symbols

World Heritage Natural Site

BBC List

Top 100 wonders of the world

World Heritage Cultural Site
Oceania » Sydney


Blue Mountains

AUSTRALIA » NEW ZEALAND » FRENCH POLYNESIA »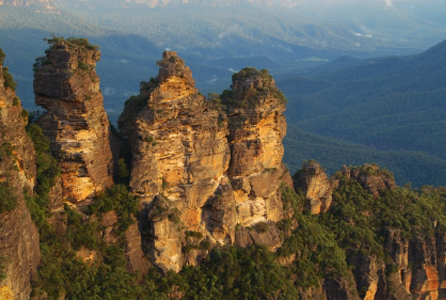 Discovering Blue Mountains
It is one of Australia's natural wonders. Stretching for over one million hectares the Blue Mountains is an inspiring mix of rainforest, canyons, and forestry combining eight individual conservation reserves.
It is a nature lover's paradise with an abundance of colourful bird and animal life, no visit to the Blue Mountains is complete without visiting Echo Point in Katoomba, breathe in the fresh mountain air and marvel at the majesty of canyon below, views of the rocky outcrop known as the Three Sisters, across the Jamison Valley and towards the Ruined Castle will inspire you.
Call 0808 2525 672

Discuss your travel requirements face-to-face with our travel expert.

Ask one of our travel experts to call you at your convenience.

Contact us to so we can help you find your dream trip today!