View the Ultimate World Tour
Oceania »
AUSTRALIA » NEW ZEALAND » FRENCH POLYNESIA »
Highlights
Choose a Highlight for further information
Economy from
£7,499
per person
Business from
£13,000
per person
---
Key to Symbols

World Heritage Natural Site

BBC List

Top 100 wonders of the world

World Heritage Cultural Site
Oceania » Bora Bora


Bora Bora

AUSTRALIA » NEW ZEALAND » FRENCH POLYNESIA »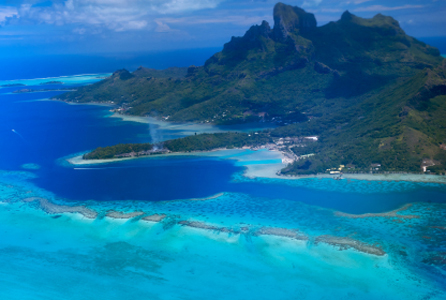 Discovering Bora Bora
Bora Bora is unquestionably the most mythical of all Pacific Islands. Seen from the air, Bora Bora has been compared to that of "a tiny emerald in a setting of turquoise, encircled by a sheltering necklace of sparkling pearls".
The view of the lagoon from the aircraft as you prepare to land is truly breathtaking, the marine life surrounding it is unbelievable.
Southeast of the island is the coral garden a natural underwater wonderland where all types of fish are found, Manta rays, sharks, and barracudas all congregate in a never ending underwater freeway.
You stay at one of few exclusive and luxurious properties will crown a memory never to be forgotten.
Call 0808 2525 672

Discuss your travel requirements face-to-face with our travel expert.

Ask one of our travel experts to call you at your convenience.

Contact us to so we can help you find your dream trip today!