View the Ultimate World Tour
Oceania »
AUSTRALIA » NEW ZEALAND » FRENCH POLYNESIA »
Highlights
Choose a Highlight for further information
Economy from
£7,499
per person
Business from
£13,000
per person
---
Key to Symbols

World Heritage Natural Site

BBC List

Top 100 wonders of the world

World Heritage Cultural Site
Oceania » Perth


Pinnicles Desert

AUSTRALIA » NEW ZEALAND » FRENCH POLYNESIA »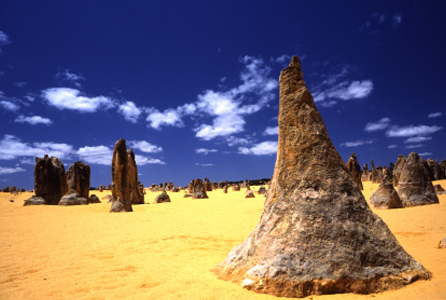 Discovering Pinnicles Desert
Thousands of eerie limestone pillars up to 4 metres tall form the Pinnacles Desert. The moonscape scenery is made by the pillars rising out of the stark desert landscape of yellow quartz sand. The Pinnacles vary in size and shape; some are as small as a mouse whilst many are as big as 3.5m high.
These unusually shaped rocks have been likened to tombstones, termite mounds and even fingers. The Pinnacles Desert is best seen at dawn or dusk when they cast long strange shadows over the rippling yellow sand dunes.
Call 0808 2525 672

Discuss your travel requirements face-to-face with our travel expert.

Ask one of our travel experts to call you at your convenience.

Contact us to so we can help you find your dream trip today!