View the Ultimate World Tour
Asia Minor »
EGYPT » TURKEY » JORDAN » UAE » OMAN »
INDIA » NEPAL » JAPAN »
Highlights
Choose a Highlight for further information
Economy from
£6,199
per person
Business from
£10,500
per person
---
Key to Symbols

World Heritage Natural Site

BBC List

Top 100 wonders of the world

World Heritage Cultural Site
Asia Minor » Agra


Taj Mahal

EGYPT » TURKEY » JORDAN » UAE » OMAN »
INDIA » NEPAL » JAPAN »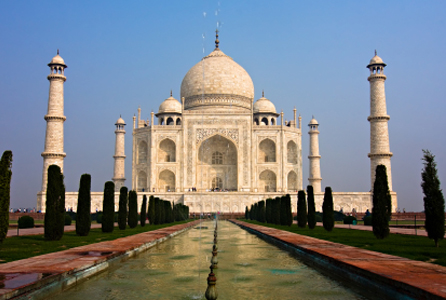 Discovering Taj Mahal
The Taj Mahal is the most graceful and extravagant monument in India. It is a universally acclaimed symbol of endless love and the seventh wonder of the modern world. The Taj was created by the Emperor Shah Jehan, in memory of his beloved wife Queen Mumtaz Mahal who died in 1631. So great was his love for her, he ordered the building of the most beautiful mausoleum on Earth.
The Taj Mahal stands on a raised marble platform surrounded by four minarets, inside are delicate mosaics and marble walls decorated with intricate patterns of inlaid precious stones.
Call 0808 2525 672

Discuss your travel requirements face-to-face with our travel expert.

Ask one of our travel experts to call you at your convenience.

Contact us to so we can help you find your dream trip today!