View the Ultimate World Tour
Asia Minor »
EGYPT » TURKEY » JORDAN » UAE » OMAN »
INDIA » NEPAL » JAPAN »
Highlights
Choose a Highlight for further information
Economy from
£6,199
per person
Business from
£10,500
per person
---
Key to Symbols

World Heritage Natural Site

BBC List

Top 100 wonders of the world

World Heritage Cultural Site
Asia Minor » Cairo


Pyramids of Giza

EGYPT » TURKEY » JORDAN » UAE » OMAN »
INDIA » NEPAL » JAPAN »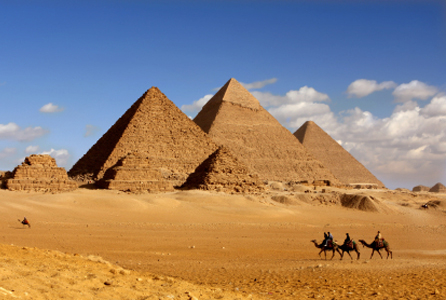 Discovering Pyramids of Giza
Ancient Egyptians believed that when the pharaoh died, he became Osiris, king of the underworld. The mighty pyramids are the most famous monuments of ancient Egypt and a timeless symbol to the God Kings that ruled this mysterious land. The colossal structures at Giza were more than just tombs, the questions surrounding there symbolism, design and greater purpose have inspired passionate debate for centuries.
An estimated 20 to 30,000 workers built the Pyramids at Giza over an 80 year period, and this breathtaking site is the only remaining Wonder of the Ancient World.
Call 0808 2525 672

Discuss your travel requirements face-to-face with our travel expert.

Ask one of our travel experts to call you at your convenience.

Contact us to so we can help you find your dream trip today!