View the Ultimate World Tour
Asia Minor »
EGYPT » TURKEY » JORDAN » UAE » OMAN »
INDIA » NEPAL » JAPAN »
Highlights
Choose a Highlight for further information
Economy from
£6,199
per person
Business from
£10,500
per person
---
Key to Symbols

World Heritage Natural Site

BBC List

Top 100 wonders of the world

World Heritage Cultural Site
Asia Minor » Istanbul


Blue Mosque - Istanbul

EGYPT » TURKEY » JORDAN » UAE » OMAN »
INDIA » NEPAL » JAPAN »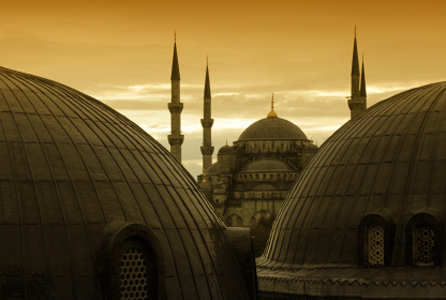 Discovering Blue Mosque - Istanbul
The beautiful Blue Mosque visible throughout Istanbul is easily distinguishable by its 6 towering minarets and cascading domes dominating the skyline. None of the exterior is in fact blue; its name comes from the 20,000 exquisite blue tiles that cover the interior.
Resplendent with flowers, birds, trees and Islamic scripture, the 260 windows allow light to stream in creating a wonderful play on colour and atmosphere as the day passes. No visit to Istanbul can be complete without a visit to this timeless Islamic place of worship.
Call 0808 2525 672

Discuss your travel requirements face-to-face with our travel expert.

Ask one of our travel experts to call you at your convenience.

Contact us to so we can help you find your dream trip today!