View the Ultimate World Tour
Asia Minor »
EGYPT » TURKEY » JORDAN » UAE » OMAN »
INDIA » NEPAL » JAPAN »
Highlights
Choose a Highlight for further information
Economy from
£6,199
per person
Business from
£10,500
per person
---
Key to Symbols

World Heritage Natural Site

BBC List

Top 100 wonders of the world

World Heritage Cultural Site
Asia Minor » Amman


Petra - Jordan

EGYPT » TURKEY » JORDAN » UAE » OMAN »
INDIA » NEPAL » JAPAN »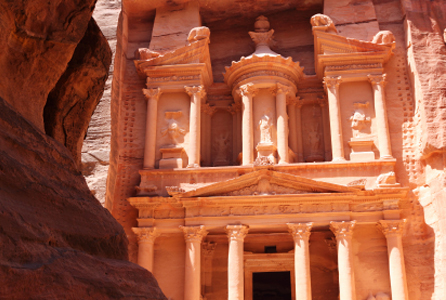 Discovering Petra - Jordan
The rose red city of Petra, often described as the eighth wonder of the ancient world, much has been written about this mysterious place.
Huge structures carved into the sheer rock face by the Nabataeans, an industrious Arab people who settled here more than 2000 years ago. However nothing prepares the visitor for this awe inspiring experience. The colours and formations of the rocks are dazzling, as are the classical facades engineered from these great cliffs. It has to be seen to be believed.
Call 0808 2525 672

Discuss your travel requirements face-to-face with our travel expert.

Ask one of our travel experts to call you at your convenience.

Contact us to so we can help you find your dream trip today!