View the Ultimate World Tour
Asia Minor »
EGYPT » TURKEY » JORDAN » UAE » OMAN »
INDIA » NEPAL » JAPAN »
Highlights
Choose a Highlight for further information
Economy from
£6,199
per person
Business from
£10,500
per person
---
Key to Symbols

World Heritage Natural Site

BBC List

Top 100 wonders of the world

World Heritage Cultural Site
Asia Minor » Dubai


Dubai

EGYPT » TURKEY » JORDAN » UAE » OMAN »
INDIA » NEPAL » JAPAN »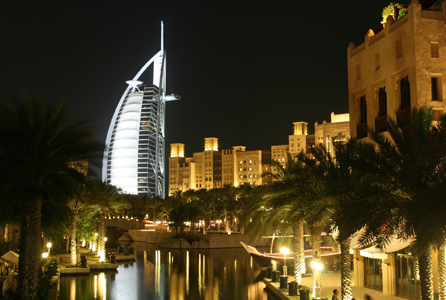 Discovering Dubai
Located at the cross-roads of Asia, Europe and Africa, Dubai is a cosmopolitan gateway that combines the traditions of the east with the comforts of the west. Dubai's humble beginnings as a small fishing port that quickly developed into an important trading post due to its strategic position has never been oil rich like its neighbouring Arab states.
The current Monarch, Mohammed Bin Rashid Al Maktoum was quick to realise that eventually the money would run out and set about recreating Dubai as the World's premier leisure resort. The building projects undertaken have been among the most ambitious ever seen. Today Dubai is an intriguing mix combining super modern deluxe hotels and shopping complexes, old-world souks and rolling sand dunes, championship golf courses, remote Bedouin villages and the beautiful sun drenched Jumeirah beach.
Call 0808 2525 672

Discuss your travel requirements face-to-face with our travel expert.

Ask one of our travel experts to call you at your convenience.

Contact us to so we can help you find your dream trip today!