View the Ultimate World Tour
Asia Minor »
EGYPT » TURKEY » JORDAN » UAE » OMAN »
INDIA » NEPAL » JAPAN »
Highlights
Choose a Highlight for further information
Economy from
£6,199
per person
Business from
£10,500
per person
---
Key to Symbols

World Heritage Natural Site

BBC List

Top 100 wonders of the world

World Heritage Cultural Site
Asia Minor » Dubai


The Palm Jumeirah

EGYPT » TURKEY » JORDAN » UAE » OMAN »
INDIA » NEPAL » JAPAN »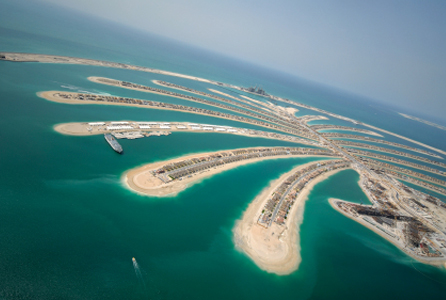 Discovering The Palm Jumeirah
The Palm is the brainchild of the Nahkeel Corporation, regarded by many as the most ambitious manmade construction ever undertaken. The Palm has captured the world's imagination with its magnificent scale and ingenuity.
Many of the worlds wealthiest people have invested in luxurious homes that stretch along the palm shaped fronds that fan out from the trunk which attaches main land Dubai to the super structure.
Call 0808 2525 672

Discuss your travel requirements face-to-face with our travel expert.

Ask one of our travel experts to call you at your convenience.

Contact us to so we can help you find your dream trip today!