View the Ultimate World Tour
Far East »
CHINA » VIETNAM » CAMBODIA » THAILAND » MALAYSIA » SINGAPORE » INDONESIA »
Highlights
Choose a Highlight for further information
Economy from
£9,199
per person
Business from
£12,600
per person
---
Key to Symbols

World Heritage Natural Site

BBC List

Top 100 wonders of the world

World Heritage Cultural Site
Far East » Beijing


Temple of Heaven - Beijing

CHINA » VIETNAM » CAMBODIA » THAILAND » MALAYSIA » SINGAPORE » INDONESIA »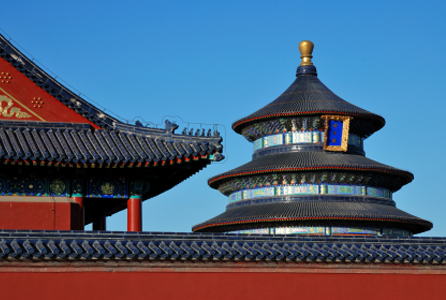 Discovering Temple of Heaven - Beijing
The magnificent and colourful Temple of Heaven was where emperors of the Ming and Qing dynasties would offer sacrifices to Heaven and pray for good harvests.
The temple complex was constructed between 1406 and 1420 during the reign of Ming Emperor Yong Lee who also oversaw the creation of the Forbidden City during the same period.
Call 0808 2525 672

Discuss your travel requirements face-to-face with our travel expert.

Ask one of our travel experts to call you at your convenience.

Contact us to so we can help you find your dream trip today!