View the Ultimate World Tour
Far East »
CHINA » VIETNAM » CAMBODIA » THAILAND » MALAYSIA » SINGAPORE » INDONESIA »
Highlights
Choose a Highlight for further information
Economy from
£9,199
per person
Business from
£12,600
per person
---
Key to Symbols

World Heritage Natural Site

BBC List

Top 100 wonders of the world

World Heritage Cultural Site
Far East » Bali


Rice Terraces

CHINA » VIETNAM » CAMBODIA » THAILAND » MALAYSIA » SINGAPORE » INDONESIA »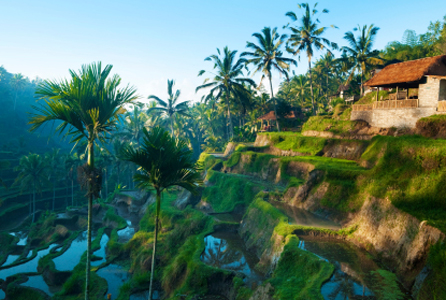 Discovering Rice Terraces
Bali is much more than a beach lover's paradise, its hinterland abounds with picturesque rice terraces, towering active volcanoes, crater lakes and lush tropical forests teaming with exotic wildlife.
The emerald green rice terraces in the river gorge north of Tegallalang village in central Bali are generally considered to offer visitors the best photo opportunities.
Call 0808 2525 672

Discuss your travel requirements face-to-face with our travel expert.

Ask one of our travel experts to call you at your convenience.

Contact us to so we can help you find your dream trip today!