View the Ultimate World Tour
Far East »
CHINA » VIETNAM » CAMBODIA » THAILAND » MALAYSIA » SINGAPORE » INDONESIA »
Highlights
Choose a Highlight for further information
Economy from
£9,199
per person
Business from
£12,600
per person
---
Key to Symbols

World Heritage Natural Site

BBC List

Top 100 wonders of the world

World Heritage Cultural Site
Far East » Bangkok


Grand Palace

CHINA » VIETNAM » CAMBODIA » THAILAND » MALAYSIA » SINGAPORE » INDONESIA »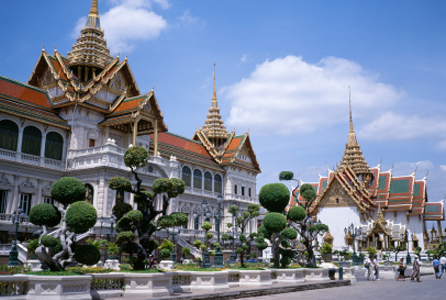 Discovering Grand Palace
The Grand Palace is probably the number one tourist attraction in Bangkok, and hence probably in all of Thailand. If you are only going to see one sight in Bangkok this should be it, the stunning grandeur of the temples inside the complex is unforgettable.
Built in traditional Thai architecture mixed with European designs the Grand Palace was once the official residence of Thai Monarchs.
The main centerpiece of the complex is the Emerald Buddha carved from just one piece of jade; it is the holiest and most revered religious shrine in all of Thailand.
Call 0808 2525 672

Discuss your travel requirements face-to-face with our travel expert.

Ask one of our travel experts to call you at your convenience.

Contact us to so we can help you find your dream trip today!