View the Ultimate World Tour
Far East »
CHINA » VIETNAM » CAMBODIA » THAILAND » MALAYSIA » SINGAPORE » INDONESIA »
Highlights
Choose a Highlight for further information
Economy from
£9,199
per person
Business from
£12,600
per person
---
Key to Symbols

World Heritage Natural Site

BBC List

Top 100 wonders of the world

World Heritage Cultural Site
Far East » Bangkok


Floating Markets - Bangkok

CHINA » VIETNAM » CAMBODIA » THAILAND » MALAYSIA » SINGAPORE » INDONESIA »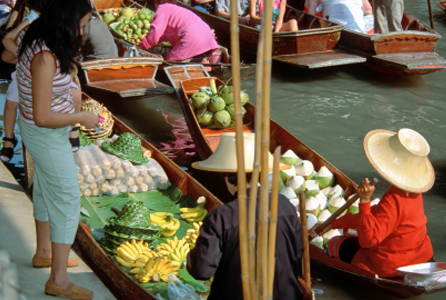 Discovering Floating Markets - Bangkok
The floating markets are exactly as you might imagine. Unlike regular markets, sellers pack their wares onto small boats and jostle with each other for the attention of buyers along the canal.
Set against a country backdrop the markets are very picturesque, during the long tail boat ride to the market you'll pass orchards, traditional teak houses and local people going about their lives.
A trip to the Damnoen Saduak floating market will be a highlight of your trip to Bangkok.
Call 0808 2525 672

Discuss your travel requirements face-to-face with our travel expert.

Ask one of our travel experts to call you at your convenience.

Contact us to so we can help you find your dream trip today!