View the Ultimate World Tour
Far East »
CHINA » VIETNAM » CAMBODIA » THAILAND » MALAYSIA » SINGAPORE » INDONESIA »
Highlights
Choose a Highlight for further information
Economy from
£9,199
per person
Business from
£12,600
per person
---
Key to Symbols

World Heritage Natural Site

BBC List

Top 100 wonders of the world

World Heritage Cultural Site
Far East » Halong Bay


Halong Bay

CHINA » VIETNAM » CAMBODIA » THAILAND » MALAYSIA » SINGAPORE » INDONESIA »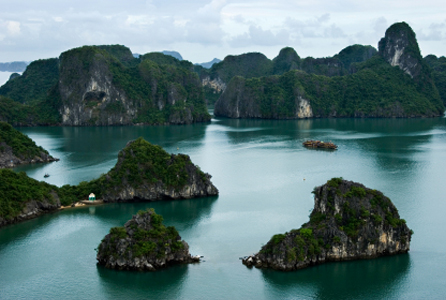 Discovering Halong Bay
Halong Bay is one of the World's natural wonders, and probably the most beautiful destinations in Vietnam. Halong Bay stretches along 120 kms of coastline and features more than a thousand limestone monoliths of varying shapes and sizes rising from the ocean.
A place of mythical folklore Ha long translated means "descending dragon bay". Tour this dramatic landscape aboard a traditional junk boat, relax and marvel as this surreal location unveils its secrets.
Call 0808 2525 672

Discuss your travel requirements face-to-face with our travel expert.

Ask one of our travel experts to call you at your convenience.

Contact us to so we can help you find your dream trip today!