View the Ultimate World Tour
Far East »
CHINA » VIETNAM » CAMBODIA » THAILAND » MALAYSIA » SINGAPORE » INDONESIA »
Highlights
Choose a Highlight for further information
Economy from
£9,199
per person
Business from
£12,600
per person
---
Key to Symbols

World Heritage Natural Site

BBC List

Top 100 wonders of the world

World Heritage Cultural Site
Far East » Kota Kinabalu


Orangutan Sanctuary

CHINA » VIETNAM » CAMBODIA » THAILAND » MALAYSIA » SINGAPORE » INDONESIA »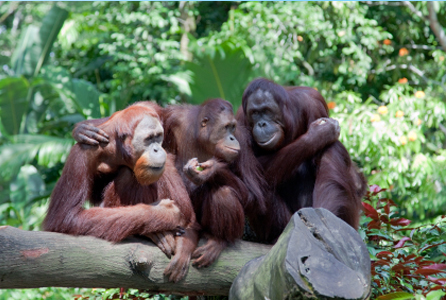 Discovering Orangutan Sanctuary
Orang-utans remain only on the islands of Borneo (Sarawak and Sabah ) and Sumatra in South East Asia. They are the only great apes to be found outside Africa. No one should come to Sarawak without seeing the Orang-utans of Semmengoh. The sanctuary is about 30 minutes drive from Kuching.
The centre was established in 1975 for the rehabilitation of confiscated wild animals and now has a large number of semi wild Orang-utans who can be seen at their twice daily feeding times.
Call 0808 2525 672

Discuss your travel requirements face-to-face with our travel expert.

Ask one of our travel experts to call you at your convenience.

Contact us to so we can help you find your dream trip today!