View the Ultimate World Tour
Far East »
CHINA » VIETNAM » CAMBODIA » THAILAND » MALAYSIA » SINGAPORE » INDONESIA »
Highlights
Choose a Highlight for further information
Economy from
£9,199
per person
Business from
£12,600
per person
---
Key to Symbols

World Heritage Natural Site

BBC List

Top 100 wonders of the world

World Heritage Cultural Site
Far East » Beijing


Great Wall of China

CHINA » VIETNAM » CAMBODIA » THAILAND » MALAYSIA » SINGAPORE » INDONESIA »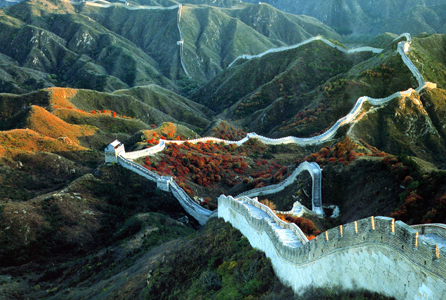 Discovering Great Wall of China
No visit to China is complete without the experience of walking along a section of The Great Wall, built during the Ming Dynasty and running for nearly 400 miles, truly a wonder of the ancient world!
Construction of the Great Wall began in the 7th century BC when China was controlled by feudal warlords. Added to and rebuilt in the 16th century the Great Walls purpose was to protect the northern borders of the Chinese Empire from the Mongolians and other invaders.
Call 0808 2525 672

Discuss your travel requirements face-to-face with our travel expert.

Ask one of our travel experts to call you at your convenience.

Contact us to so we can help you find your dream trip today!