View the Ultimate World Tour
Far East »
CHINA » VIETNAM » CAMBODIA » THAILAND » MALAYSIA » SINGAPORE » INDONESIA »
Highlights
Choose a Highlight for further information
Economy from
£9,199
per person
Business from
£12,600
per person
---
Key to Symbols

World Heritage Natural Site

BBC List

Top 100 wonders of the world

World Heritage Cultural Site
Far East » Siem Reap


Angkor Wat - Cambodia

CHINA » VIETNAM » CAMBODIA » THAILAND » MALAYSIA » SINGAPORE » INDONESIA »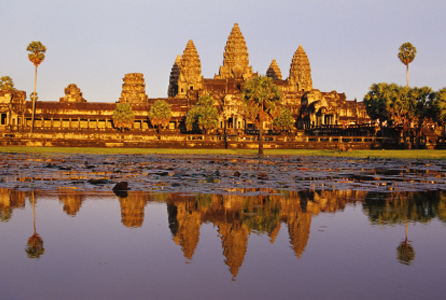 Discovering Angkor Wat - Cambodia
Angkor is widely regarded as one of the "must see" cultural landmarks of the modern world. Any visitor to the magical ruins of Angkor will marvel at the incredible architecture and grandeur of the largest temple complex ever discovered.
Angkor Wat is visually, architecturally and artistically breathtaking. It is a massive three-tiered pyramid crowned by five lotus-like towers rising 65 meters from ground level. Angkor Wat is the centrepiece of any visit to the temples of Angkor.
Call 0808 2525 672

Discuss your travel requirements face-to-face with our travel expert.

Ask one of our travel experts to call you at your convenience.

Contact us to so we can help you find your dream trip today!